Being part of the Manufacturing Technologies Association (MTA) cluster delivers many exciting opportunities for EIA members. It means we can offer members a whole suite of benefits to help place the UK's engineering sector on a stronger footing than ever before.
As technology develops, we will work with our membership, helping them thrive and in turn, build a community of manufacturing and engineering excellence capable of challenging the best in the world.
All with the added benefit of value for money and a speedy return on investment.
We continually strive to help our members increase sales and reduce operating costs, and we do this in several ways:
Discounted access to the national exhibition in our sector, The Engineering Supply Chain Show, which is co-located with MACH and offers EIA members unrivalled opportunities to network with 26,000 industry leaders and decision makers.
Export assistance is available in-house, while we also have strong connections with the Department for Business & Trade, Institute of Export, Lloyds, and experienced exporters within the association's own membership. We also lead delegations participating in overseas trade shows.
Sharing the latest Market Intelligence including a 50% discount on BSI standards, Quarterly Business Surveys and information on new Government initiatives and funding.
Exclusive networking with members of the Manufacturing Technologies Association, and AMUK at events throughout the year, including the annual dinner.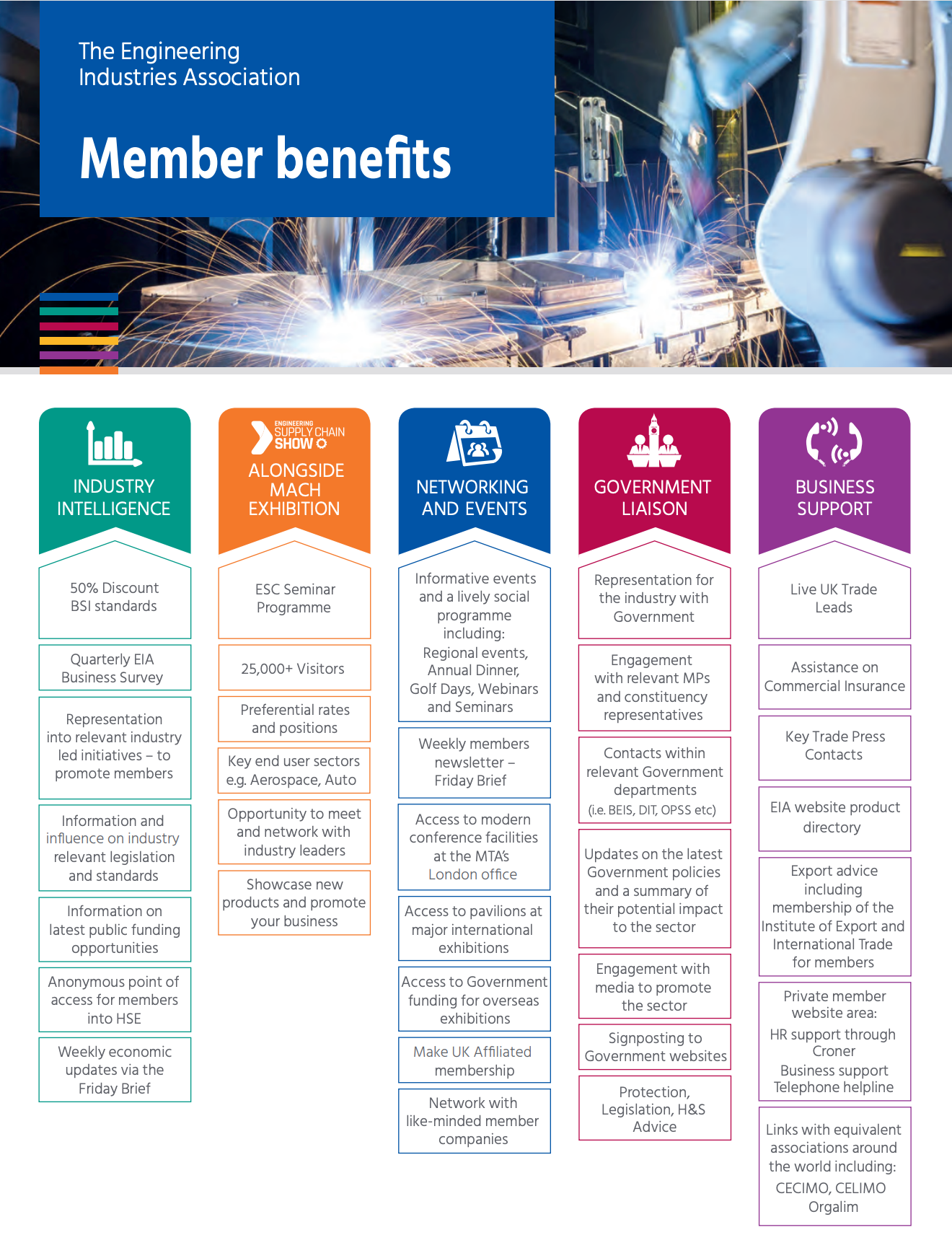 EIA Membership Subscriptions Rates
Band 1 1 employee – £184 + VAT
Band 2 2 employees – £336 + VAT
Band 3 3 – 5 employees – £457 + VAT
Band 4 6 – 20 employees – £604 + VAT
Band 5 21 – 50 employees – £756 + VAT
Band 6 51 + employees – £909 + VAT
Band 7 Exporter – £546 + VAT
Band 8 Associate – £546 + VAT
Band 9 Education – £426 + VAT
Band 10 Honorary – £0 + VAT